This week I am back home in Singapore, and the good news is, no work


I am on leave!
Due to the H1N1 related risk and travel complications, I finally decided to stay simply at home and catch up with some long-pending things to finish. Well..but it's also holidays so I used the time to explore another jungle area. Singapore is a very green city and out of the door you can be in 10 minutes under a green canopy and when walking another 20 minutes you are then deep in the forest.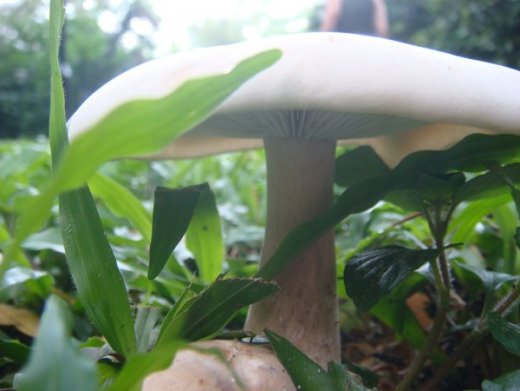 Today I literally stumbled over a garden in the middle of the forest : surrounded by giant trees an old lady and two men were busily working on planting something, surrounded by more or less seemingly chaotic plantations of beans, chilies, eggplants, "lady fingers" and who knows what else. No fence, no "entrance prohibited" warning. Just walk in. A small sign stated that this is the Bukit Panjang Community Garden: "A vegetable farm set up by Holland-Bukit Panjang Town Council. It allows residents to plant vegetable for their own consumption and at the same time, allows them to interact with each other. "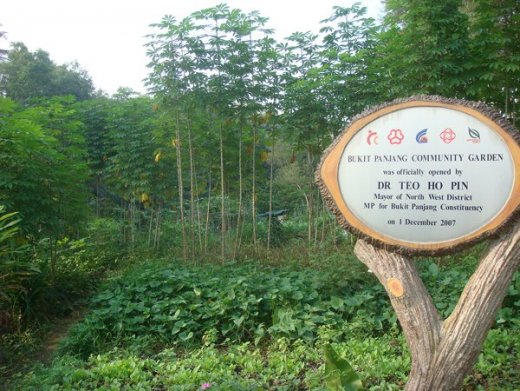 This is what i found on the Internet on this: Besides providing an outlet for interaction amongst residents, the new community garden at Bukit Panjang also helps senior residents perform light exercises through planting. The 1,300 sq m garden located near Blk 203 Petir Rd is home to 80 residents who grow vegetables for their own consumption. Dr Teo Ho Pin, MP for Bukit Panjang Constituency and Chairman of Holland-Bukit Panjang Town Council who graced the opening, said that some of these residents used to plant vegetables when they were living in kampongs long ago, however they have retained their old ways of planting. He added that the committee engaged the help of National Parks Board to educate these residents on the proper way of planting. Mdm Soh ,87, a senior resident said that the community garden helps keep her active as well as helps to pass time, moreover she can share the vegetables she planted with her neighbours! Dr Teo revealed that due to the good response received for this community garden, another one will be built near Blk 273 and to date there have been more than a 100 responses from residents!
Wow, the governement giving out for free private state land to senior citizens to to relax and exercise while gardening. Which of our Western governments can boast with something comparable?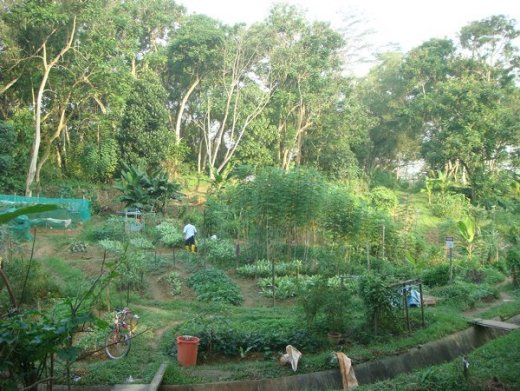 Indeed, standing in the midst of the never-quiet jungle and see some senior citizens busily but without rush working in their garden was one of these moments when you stop the time for a while. What a contrast to my last week in China filled with crowds, noise from the countless construction sites, busy hotels and work, work, work.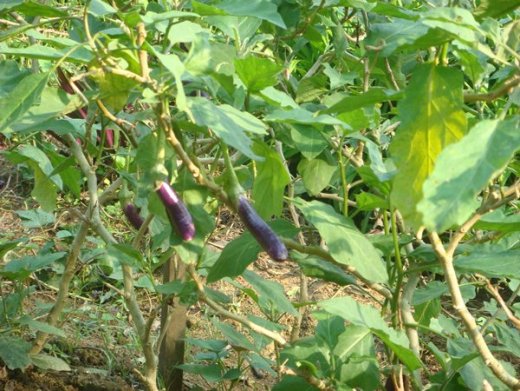 I have a friend in France who years ago left his job as an IT engineer in Paris to build an ecological farm in South France. For years he is already struggling, entagled in financial and administrative constraints and regulations, unable to obtain a permission to construct a habitation on his own ground, while spending the winters in his camping car.
He would have certainly liked this place and the idea. These senior citizens allowed to step back and reach out to their past and their souvenirs, could possibly remind us that not all things that are gone long time ago are also worth to be forgotten.