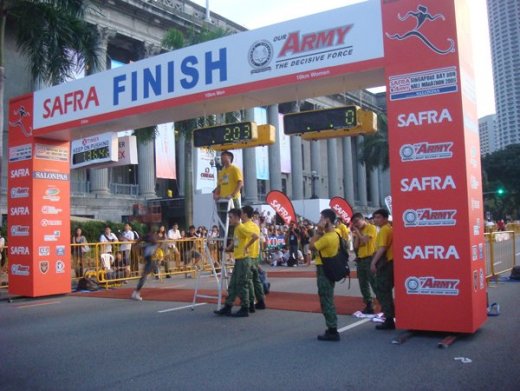 The last weeks i kept practising more regularly - not only the long weekend runs but also some laps in the stadium. What a (undoubtedly) pleasure to let the alarm clock ring at 5.50am just to jump (crawl) out of your bed, searching the running shoes in the darkness.
Anyway, last week was a good time to put my elaborate training plan to the test. I decided to run the Safra Army half marathon, but not at full speed : just to confirm my plan who told me that i can now get under 2 hours. Last year's Standard Chartered half marathon I finished in 1:57 and felt pretty dead after this. But with my more regular training and the workout plan things should now be different, I told to myself.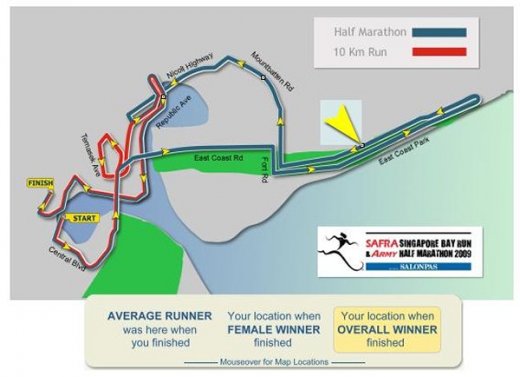 Wake up call before 5am (ah yes!); jump in the cab and drive to the starting line. Since it is supposed to be only a training run, I queue quite far from the departure point and it takes more then 5 minutes to finally cross the starting line. I discover immediately that this is still a mistake : the crowd is so dense and the streets sometimes just too narrow. I could not run at my planned more then 10.5km/h; worse, the constant slalom around people is just good enough to sabotage your plan when you try to run a steady pace. At km 5 I saw my under-2-hours-plan already fading away...
My new Garmin watch triomphantly beeps and told me that i am now 3 minutes behind my virtual competitor. THANK YOU!!!!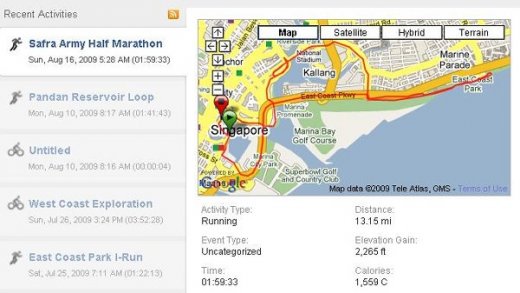 But once left the ECP and entered the East Coast Park, I felt I was getting out of the worst. The crowd was not so dense anymore and the first runners switched to walking, thus making the way free. (Disciplined Singaporeans make way to runners when they walk... at least in theory). I was now able to accelerate and i calculated that if I keep the speed i might make it in 2:02 which was still acceptable. On the following kilometers I finally realized that I am feeling well while running a steady 5:30 per kilometer, and that this is the very first race in Singapore I was really enjoying a race. The training plan worked!!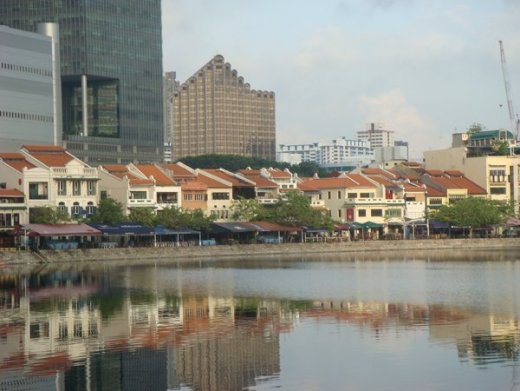 The last kilometers to the finish line I felt like flying - the power of positive emotion - while running some pathetic 11 km/h. The music, the supporters (sparse, very sparse a t 6 in the morning!), the other runners - it just carried me until the finish line. 200m away from the finish i realized i can still make my objective and did a final sprint to walk away with 1:59:29 and a 1457th place out of 10442 runners. Not extraordinary but just what I planned. Task done!
I am looking forward the Standard Chartered half marathon where this time things will be more serious.