Last year, on the last meters of my very first Marathon, i said to myself : "never again...". I still remember my day in bed with fever and the agony of the last kilometres (walk...run... walk ... crawl....).
So, no surprise ; the lessons learnt were forgotten one week after, and I downloaded some training sheets from the Internet in the attempt to "prepare" and avoid the suffering again. I taped them into my wardrobe at the inside of the door, so that i can see them every day.
The calendar sheets went one by one, work here, obligations there, and i did not really follow my elaborate training programme. Ambitious too, with at least three training sessions per week. Still, I managed to squeeze in a run here and there, and during my time in KL i had conveniently the KLCC park for training in the morning (if I managed to wake up).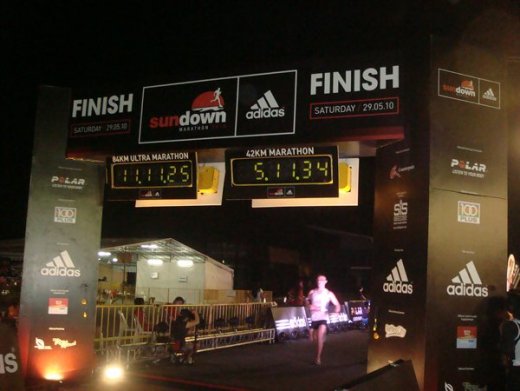 So here I was yesterday at 23h59 at the departure line for my 2nd marathon.. Slightly stressed, remembering last year... My objective was again to finish below 5 hours. I didn't really push to be the first at the departure line, knowing i am not here to win. Rather i am here to survive. Just before the departure it was announced that the first Ultra-Marathoner was coming in, with a mythical time of 6 hours... he must have taken the cab somewhere. The crowd cheered, incredulously. And the gun went off, it was midnight.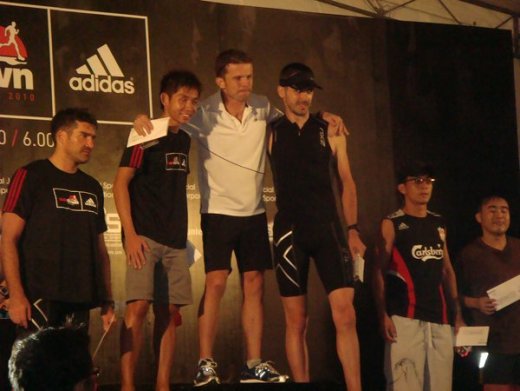 I speculated to clock at around 6h45 / km for the first thirty kilometres, to work out a little margin for the bitter end. However, i felt quite well and to my suprise, kept at 6h30 for a while. I tried to slow down, for fear to burn out, but it just went by itself so i just let it go. I passed the 10km mark at 1h05 ; 5 minutes ahead of schedule. We were done with Changi Airport, and entered the East Coast Park. So far, so good.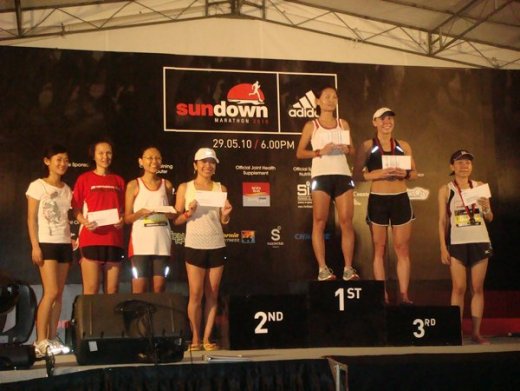 The jams at the drinking stations began to disappear, there were now many runners walking.. I still went on with 6h30 / km and passed the half marathon mark at 2h23. And still, no signs of beeing tired... I U-turned and had another 10km to finish off East Coast Park. Quite disturbing to run in the midst of barbecues, and to smell grilled sausages everywhere. By the time, there was no crowd anymore, just groups of runners here and there. I caught up with a lady runner and we stayed together at the same pace.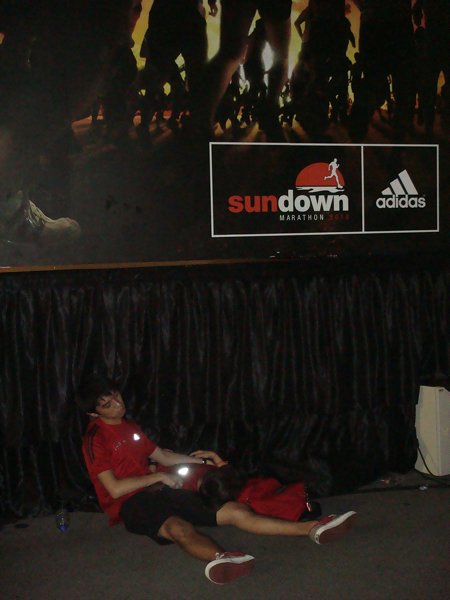 First signs of slowing down at kilometer 25, but I still had a comfortable margin ahead of schedule. I started to pick up hope it would be better then last year, clearly at this distance i was already very much dead one year ago. Kilometer 30 at 3h23 ; I was now getting into the 7ish / km, but it was ok. 7 minutes ahead with only 12 km to go, it started to become possible.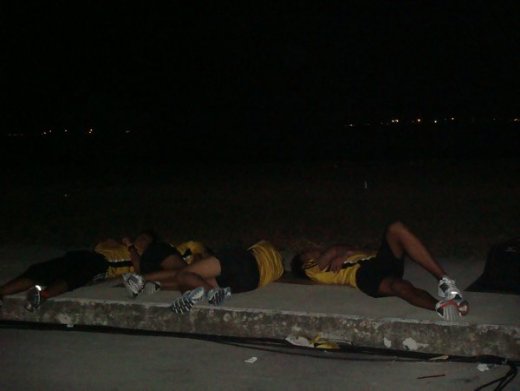 Together with the lady runner we started clocking down the last kilometers. It was really helpful to run with someone, every time i slowed down i had a motivation to catch up :) The worst kilometer was 33 with 7h44 ; the legs got heavy. So far I hadn't stopped anywhere except the drinking stations for a quick refill. At kilometer 35 I still didn't feel too bad, just "normal" tired. The thought to get under the 5 hours mark gave me wings. I started picking up speed and and paced again at below 7 mn / km at kilometer 38. By this time I had lost my fellow companion, she dropped behind. Thank you for your help !
No agony this time, 4km to go, I passed the last refill station without stopping for the last push. Kilometer 41 was all the way uphill and painful and i starting feeling that cramps were nearing. But the finish line was nearing too. I could already hear the usual music, cheering and the commentator's voice. Don't stop, don't stop ! A large group of runners in front of me, I tried to overtake but they all had the same idea.
I knew now I was far below 5 hours. The last kilometer I was flying. Forgotten the pain and the long hours on the road. The last 300 meters I went into a sprint, there was still some energy left ! Nothing to do with last year's result, nothing ! I think i passed the finish line with a broad smile from ear to ear. Final result incredible (for me !) 4h49:39 ; some twenty minutes faster then last year and certainly i am not wrecked. And the placement is 348th out of 3857 competitors.
On the way home i fell into a black hole in the cab, only to wake up at lunch time. I walk to the bathroom like a duck, and the legs feel like two tree trunks, but i have the finisher medal on my night table and it is certainly a morale-booster for this year !
As said already last year, "never again a marathon !". To be continued...