Les spots a Paris



Quai de Bercy - Holiday Style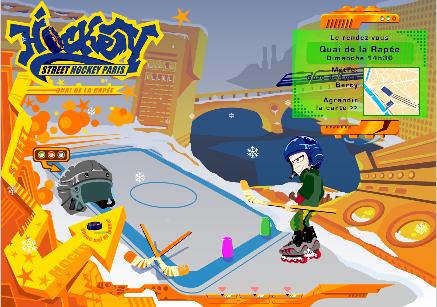 The best spot in Paris ! ('cause it it our's !). In my opinion this is the only one where you do not need to be a killer to play - everybody is welcome, from absolute beginners to NHL-stars. We want everybody to play, to progress and, not to forget, to have fun !
Usually every sunday around 3p.m. The surface is quite good, but too rough to play with a puck, we rather use a ball. The ambiance is great : just next to the river Seine and some barges, where people are partying in the summer.
There is a website with a newsgroup where you can subscribe for free to be informed when we play :


Gare de Lyon - the Super Bowl

This one is for the cracks. When you want to play there, you need to know what is hockey ! Usually everyone is accepted, but if you don't play very well, you'll soon feel inconfortable and go off by yourself. If you are good, you can really have lot of fun !
Usually sunday afternoon, and wednesday & friday night around 9 p.m. But you can always take a look, there are always two or three players hanging around.
A big place, embedded like a bowl between the buildings. Good surface, only pucks.
Check these two small clips to have an idea :


Invalides - The Tourist Spot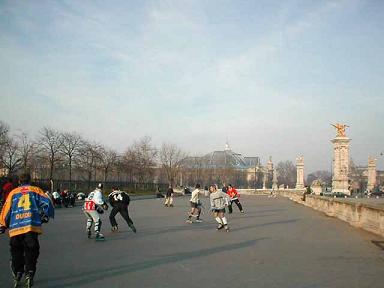 Les regles
Le Hockey de rue est un sport d'équipe. Il se pratique en extérieur sur des surfaces lisses permettant la glisse du roller. C'est un sport « sauvage » sans structures spécifiques ni règles bien établies. Les participants les déterminent eux-mêmes en s'inspirant de celles de l'in-line Hockey ou du Rink-Hockey. Le street- hockey consiste à construire un jeu d'équipe en faisant progresser le palet / la balle par des passes et des maniements de crosses qui permettront de déjouer la résistance de l'équipe adverse pour marquer des buts. Ce sport est réservé aux patineurs non professionnels qui cherchent autre chose que du simple patinage loisir. Dans tout règlement (Rink-Hockey ou Roller in line Hockey) il est fermement rappelé que le contact entre les joueurs n'est admis que lorsqu'il est accidentel.