Liens course à pied
vendredi 15 septembre 2006, par Mentom
Toutes les versions de cet article :
Diario de un corredor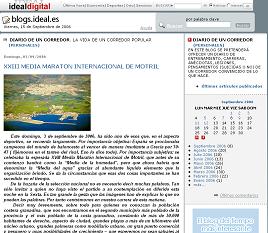 http://www.diariodeuncorredor.blogspot.com/
A blog of José Antonio whom i never met, but nevertheless we stay in contact. When i planned a stay of a week in Granada / Spain, i've searched the net for somebody who uses to run and lives there : José Antonio sent me some informations about where to run. His articles are about running of course, but very often quite philosophic, about all the questions you ask yourself while passing two hours on a running trail...